Ackroyd and Dadswell
---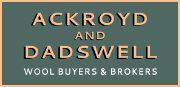 75 Dunlop Street
Mortlake 3272
Looking for a local and experienced wool broker in the Geelong and Mortlake area?
Ackroyd and Dadswell have you covered! A family-owned and operated private treaty wool buying and broking business, with over 40 years of experience we operating throughout the Geelong, Mortake, and Western Districts.
Offering a wide range of Wool and marketing options, our specialties include:
Price on Test
Online Wool broking
On-Property, private treaty in-shed pricing
On-Property pick up and shed cleanup
Same-Day Cash wool buyer
Butt and Bags always welcome
Our dedicated team pride themselves on superior quality and personalized service, maximizing your wool grower returns by offering you our broad range of exporters and processors. We offer accurate and competitive pricing in accordance with AWTA testing and our in shed services provide your will broking costs.
For more information, contact our friendly team today!