Cobden Cool Room Hire
---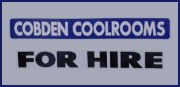 100 Curdie Street
Cobden 3266
Looking for a cool room for your next event but don't want to buy one outright?
Cobden Cool Room Hire is here to help! Our equipment rental agency is here to provide you with clean, quality products for every occasion. Ideal for large events such as a wedding, through to smaller family gatherings, our cool rooms, and portable toilets make for an easy and affordable option. Catering to a range of various clientele, our hire includes 4 or 6 shelf options for your convenience.
When you work with us, we guarantee:
24/7 Service
Easy to transport hire equipment
Cleaned and sanitized after every use
Different sized cooling options available
Simple setup and use
Attached to a trailer, our services are easy to relocate and transport direct to your desired location. Our professional and friendly team are always on hand and ready to assist you 24 hours a day, 7 days a week, with all of your enquiries.
To organize your hire today, give us a call or visit us online today!