Cobden Sewing Machines
---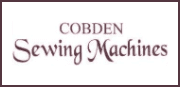 31 Curdie Street
Cobden 3266
Opening Hours
Mo: Closed
Tu-Fr: 10:30am-4:30pm
Sa-Su: Closed
Wanting to join the sewing community or pick up some supplies?
Cobden Sewing Machines has all that and more! More than just your average sewing store, we also stock and supply a wide range of products, spanning from fabrics and machines right through to confectionary. We also have many gift options for children, including gift boxes, yarn craft kits, long stitch stencils, jewelry and more.
When you visit us in store you will find:
Kids arts and crafts
Confectionary
Chairs and Desk accessories
Sewing Machines & accessories
Fabrics
Wool and thread
Our store is a stockist of leading brands such as Handquilter, Sweet Sixteen and Simply 16, adding extra quality to your sewing projects. For those wanting to learn more about different sewing techniques, we have classes available to engage our local community and provide an opportunity to learn some exciting new skills.
For more information, visit our Facebook page for updates on classes and new products, or pop in and chat to our friendly team today!