Corangamite Shire Council
---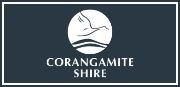 Opening Hours
Mo-Fr: 8:30am-5:00pm
Sa-Su: Closed
Are you planning on visiting or perhaps moving to the Corangamite shire?
Corangamite Shire Council is here to help you with just that! Our council can provide you with all the information you need when moving or passing through our communities, to ensure a safe and adventurous time. Home to plenty of inland lakes, fertile volcanic hinterland and spectacular coastlines overlooking the twelve apostles, we are every nature lover's paradise.
Our council can assist you with:
Employment
Pet registration and livestock information
Emergency management information
Rubbish and recycling
Youth programs and activities
Family and children services
Permits and forms
In the Corangamite Shire, community is everything. We put our people's needs first, to ensure everyone is feeling connected and happy and have equal opportunities to grow and develop. Operating from Monday to Friday, our friendly team are here to help you with any of your enquiries.
For more information on any of our services, be sure to check our website or contact our staff today!