Deiter McDonald Plumbing and Gas Fitting
---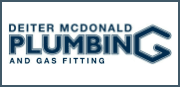 5 Holden Street
Camperdown 3260
Opening Hours
Mo-Fr: 7:30am-4:30pm
Sa-Su: Closed
Have you sprung a water or gas leak in your business or home?
For fast, reliable, installation and service let us help you! Our professional team of plumbers and gas fitters are experienced in both installation and repairs and can assist you on projects of all sizes. Whether you need general plumbing and maintenance on toilets, taps or burst pipes, or you need help with your central heating and stoves, we can do it all.
Our expert plumbers also have a great deal of experience in solving a range of drainage problems including:
Sewer
Storm water
Aggi lines
Drain cleaning
Mini dingo trencher
Spouting and downpipes
Rainwater tanks and pumps
For new and existing homes, or commercial properties we work with you to meet your general plumbing and maintenance needs both internally and externally. Our project efficiency and affordable rates ensure your project will be managed both on time and on budget.
Don't put up with that dripping tap or the toilet that keeps flushing any longer; and call Deiter McDonald Plumbing and Gas Fitting today!