Fraz Family Pharmacy
---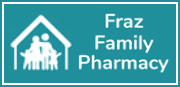 70 High Street
Terang 3264
Opening Hours
Mo-Fr: 9:00am-5:30pm
Sa: 9:00am-2:00pm
Su: Closed
Are you looking for a friendly family pharmacy for all your medical needs?
Look no further than Fraz Family Pharmacy! Our pharmacists and staff are dedicated and passionate about our community and their health, so we are always working hard to provide the very best service for everyone who walks through our door.
Our services include but are not limited to:
Expert medical advice
Professional service
Giftware
Prescription management
Over the counter medicine
Fraz Family pharmacy doubles as not only a pharmacy, but also a gift store, dedicated to providing you with excellent products at the very best price. Our gift store is full of make-up, skin care and all gift and homeware you could possibly need.
To enquire about any of our services, be sure to pop in or give our friendly staff a call today.
'So helpful and friendly. The new owner was ever so helpful with questions in regards to my 16month old. So nice to have a friendly and helpful pharmacist in Terang again' - Monique