Poustie Agricultural Contracting
---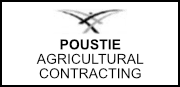 1051 Cooriemungle Road
Cooriemungle 3268
Are you looking for superior agricultural services?
At Poustie Agricultural Contracting, we have all of your needs covered! With many years of industry experience, we have the knowledge and expertise to assist you will all aspects of your job, keeping you on time and on budget.
We specialise in a range of products and services including, but not limited to:
Effluent ponds
Supply and spreading of fertiliser
Gravel and tipper work
Harvest packages
Grader hire
Using only the very best in both equipment and materials, we ensure premium quality on each job, while also maintaining an exceptionally high level of workmanship. Our high standards also ensure that when we work on your property, we work to appropriate time frames and maintain the utmost in safety and ground care. With such well-rounded services on offer, there is no need to go anywhere else.
For more information or to see how we can best help you, give our friendly team a call today!