Thomson St Hair Design
---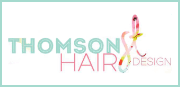 44 Thomson Street
Terang 3264
Opening Hours
Mo-Fr: 9:00am-6:00pm
Sa-Su: Closed
Walk Out Stylish And Smiling!
"Today I had my first appointment with Jeanette and cannot thank you enough for how amazing my hair looks and feels. Not only did she take the time to work out issues/ possible problems with my hair but also made a plan of how to fix it." Debi
The reviews say it all - Terang loves Thomson St Hair Design. Happy clients of all ages sing praises of the exceptional staff who are famous for paying attention to what customers really want. Whether you need an update to your current style, a special something for an event, or just a bit of pampering, you'll find it in the heart of Thomson St.
"What a fantastic beautiful salon! The ladies are so friendly and welcoming and the actually listen to what you want; can't thank you enough Julia ! Will definitely be back." - Angela
Famous For Colour
Feel fabulous every day with a colour that really suits your personality. Get advice from our staff on how to maintain the best colour, protect your hair from heat, fully hydrated - and keeping that "just-done" look for longer. Click through to our FB and IG to see galleries of delighted customers with amazing colour choices:
Caramel Highlights
Fresh Blonde
Red Violet
Copper
Soft Lilac
Rich Chocolate Brown
"After rushing and turning up late to my appointment today (sorry girls) I was kindly greeted as always before being cut and coloured to perfection by Jeanette and getting the best head massage from Prue. Absolutely love coming to the salon and getting pampered, and refuse to go anywhere else." - Chelsea

"Jeanette and the team always make you feel so welcome. Jeanette is so in touch with you and knows exactly how to make you feel special." - Sarah
Get That Fresh Feeling For Yourself - Book An Appointment Today!