Tree and Stump Removal Service Terang
---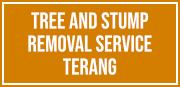 Expert Arborist Servicing The Corangamite Shire
With more than 22 years in the industry, Terry Sloane knows the needs of trees in our local area. Our unique climate and soil have familiar impacts on our trees. Trust a knowledgeable and experienced arborist to examine your trees, ensuring the safety of your property while respecting natural elements.
Complete Tree Services
Whether you are longing for your trees to grow, or wishing they had never been planted, it is best to get advice from someone who has seen it all. Terry Sloane is approachable and communicative, ready to consult with you to reach a result you are satisfied with. Quick response times means you are not waiting, and his understanding of the industry ensures your time is not wasted. With the security of decades of experience, you'll be glad you chose Tree and Stump Removal Service Terang.
Lopping
Trimming
Mulching
Clearing Service Lines
Tower Hire
Stump Removal
Choose a Fully Insured Arborist - Call Tree and Stump Removal Service Terang Today.