Waldig Civil Construction
---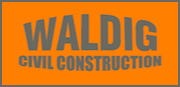 632 Purrumbette Estate Road
Tesbury 3260
Are you planning a project and need high quality earthmoving services?
Let the team at Waldig Civil Construction help you! As a family owned and operated business with years of industry experience, our team have the knowledge, skill and equipment to manage and complete your project successfully, providing superior results that are both time and cost efficient.
Offering industrial, rural and domestic services we can assist you with a range of projects including, but not limited to:
Pathways
Driveways
Shed pads - Retaining walls
Carparks
Quarry products
Drainage
Hole boring
As a small family business, we are able to take the time to get to know you and your needs and maintain personalised relationships, offering you a service like no other. We have also worked hard to establish a good balance with overall project costs, keeping within your required budgets while also delivering a high-quality end result.
For your free, no obligation quote, give our friendly team a call today!