Western District Physiotherapy
---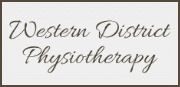 Opening Hours
Mo: 2:00pm-5:00pm
Tu: 10:00am-4:00pm
We: 10:00am-2:00pm
Th: Closed
Fr: 9:00am-12:20pm
Sa-Su: Closed
Improve Your Quality Of Life
Whether you are looking to restore mobility or reduce chronic pain, Western District Physiotherapy should be the first place you turn to. Our focus is on patient outcomes, leaving you with noticeable improvement and a new zest for life. With staff who are experts in the human body and human movement, our practise can assist with recovery from sporting injuries as well as improving physical conditions resulting from strokes, diabetes, obesity, osteoathritis, and other health issues.
"Incredible for me when I tore ligaments in both of my ankles playing netball. Very patient and very knowledgeable about how to help with my road to recovery. Definitely recommend for any injuries!" - Lucy
Rehabilitation and Prehabilitation
Experience a healthier body and a full life. Ask our team how your body can heal, restoring comfort and energy to your days. We are able to work wonders across all kinds of injuries and health conditions:
Fractures
Sprains
Dislocations
Disc Issues
Spinal Concerns
Soft Tissue
Knee and Hip Replacement
Arthritis
Oedema
Chest and Pulmonary Conditions
Cardiac Conditions
"He has explained in detail how my injury is caused and put into place some simple exercises to rectify the problem. I can already feel the difference. Definitely recommend." - Helen
Supporting Western District Communities
From WorkCover to Transport Accident Commission and Veterans Affairs patients, we are accredited to provide excellent service. Medicare cards and Health Funds will assist with the financial cost of treatment. We have discounts for Seniors and Health Care Card holders, and welcome case managed NDIS clients.
Don't Put It Off - Make A Difference To How You Feel Today! Call Now.